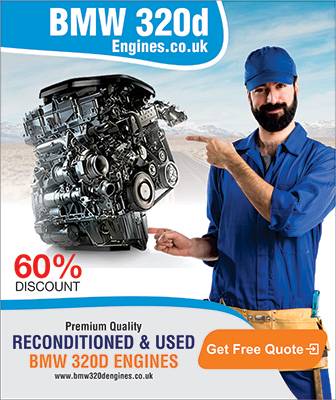 When a vehicle is written off commercially, it is useless for the user. Even then, there are some parts that are in fine working order. There are lots of recycling yards in the UK and they are breaking these vehicles for viable parts every day. We have a special team who visit these yards and pick the engines that are still in working. We have a ready to dispatch stock of fine quality reconditioned and used BMW 320d diesel engines for sale. Our engine reconditioning team is expert in doing engine reconditioning. In the case of used engines, we have a stock of low mileage second hand BMW 320d diesel engines with excellent engine economy.
320d Engine Specification
BMW 320d diesel engine is packed with powerful specs to give excellent performance with good fuel economy.
BMW 320d Convertible 2.0-Litre V4 Diesel Engine
BMW 320d Coupe 2.0-Litre V4 Diesel Engine
BMW 320d Estate 2.0-Litre V4 Diesel Engine
BMW 320d Hatchback V4 Diesel Engine
BMW 320d Saloon V4 Diesel Engine
Save up to 60% on BMW 320d Reconditioned Engines
Get the top quality used and reconditioned BMW 320d 2.0-Litre diesel engines from here at the most competitive prices. Come and get the massive discount on al 320 d engines and save up to 60%. We source used and reconditioned BMW 320d diesel engines for customers all across the UK. Working for more than a decade in the automotive industry, our engine reconditioning and BMW 320d supply and fit department is expert and they know how to transform a written off engine into a 100% efficient engine.
Trusted and Verified Used BMW 320d engine Suppliers
Normally purchasing a less used BMW 320d diesel engine or a reconditioned engine is not an easy task. There is always an uncertainty that creates doubt whether the engine is OK or not. BMW 320d engines always enlist such BMW engine suppliers who have come through our quality assurance assessments. Whether it is a used engine or a recon one, we deeply inspect each and every component of all engines to make sure that it will give 100% excellent results.
Reliable BMW 320d Engines Supply & Fitting Services in the UK
BMW 320d engines.co.uk feels proud that our BMW engine suppliers contain fully equipped mechanic shop. Fully used and reconditioned BMW 320d engines supply and fitting service is available at affordable prices. We check your faulty engine, fit it properly and provide fully verified replacement engines and deliver it directly to your doorstep. The engine maintenance, repair, fitting, and service is done under the special supervision of the most trained, qualified and experienced used BMW 320d engines technicians to ensure the best quality engine.