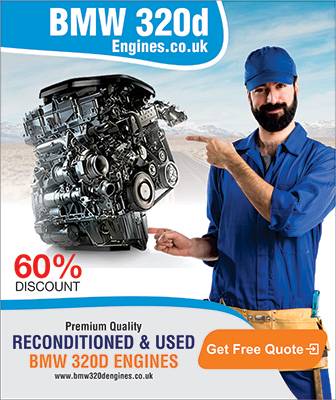 Driving a new BMW 320d is really fun until your car engine is fit. Once the engine efficiency drops down, there is nothing worse than this experience. In such a condition, what you need to do is just relaxed. There are lots of options available in the market. But wait. Do you want to waste your time? Are you willing to pay thousands of bucks in such deal for which you are not sure whether it works or not? Obviously, you don't wanna do it? Then what to do?
BMW320dengines.co.uk is the platform from where you can easily find what you want. We have a huge stock of ready to deliver reconditioned BMW 320d engines all the time. Our network of trusted and verified BMW 320d engine suppliers is vast and we always deliver tested recon or used BMW 320d engines to our customers.
We have Ready to dispatch Stock of Recon BMW 320d Diesel Engines for Sale
BMW is famous for its quality and powerful engines. BMW 320d is a real picture of the master class engines BMW has ever produced. This 2.0-Litre BMW 320d diesel engine is packed with powerful specs.
Reconditioned BMW 320d M47D20 (204D1) engines
Reconditioned BMW 320d M47D20A (204D4) engines
Reconditioned BMW 320d N47D20 engines
Reconditioned BMW 320d N47D20C engines
Buy Reconditioned BMW 320d Engines at discount Up to 60%
Searching a rebuilt engine is no doubt a time-consuming work. Simply visit our website and buy your required BMW 320d engine in minutes. You will find a list of BMW 320d rebuild engines from different BMW engine suppliers. Prices for all engines may not be the same because they are available in different conditions. We guarantee that we never compromise on quality. Not only this, our offered engines are matchless not only in quality but also in the price comparison. Buy any engine from us and get exclusive discount up to 60%. We also guarantee that you will surely not find for this deal from anywhere.
Standard Warranty Up to 24 Months of Remanufactured BMW 320d Engines
We collect a massive amount of scrap engines. We know the magic of how to transform them into the monster power spec engine. In fact, the magic is in the hands of our qualified and experienced BMW 320d engine engineers and technicians. They remanufacture the whole engine. From a single engine seal to big parts like crankshaft, engine head, cylinders, valves, pistons, every faulty part are replaced with the new parts to ensure the quality performance same like the brand new engine. When the engine is ready, we seal it properly and pack in pallets to ensure that you are the first one to enjoy the new ride with fully tested, fresh working and efficient BMW 320d diesel engines for sale.
We are fully satisfied and ensure that our remanufactured engines are committed to giving 100% performance. We also give a standard warranty up to 24 months on entire stock. The warranty period may vary according to the condition of the remanufactured 320d diesel engine.