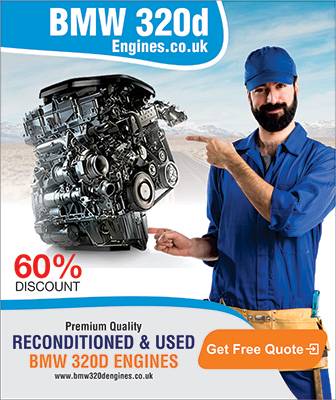 If you are searching for the top quality used or reconditioned BMW 320d engines, but you are not able to find the best place, welcome to BMW 320d engines. The best place from where you can get excellent working BMW 320d engines. We know it is completely a hectic and mind-boggling work to search a recon or used engine for your vehicle. You have to spend hours but most of the time, all time went in vain. There is a lot of variety available in the market but it is very difficult to figure out which one is the best for you.
BMW 320d engines consist of 4 cylinders, 16 valves with straight engine design. 320d engines fit in rear wheel drive and 4-wheel drive BMW 3 series 320d vehicles.
Knowing all this, why don't you save your precious time? Want to know how? Very simple. Just contact for "BMW 320d engine for sale" and let us do the job for you.
Reconditioned & Used BMW 320d Engines
The BMW 3 Series has led the field since 1975. It has been produced in six different generations. Its models are introduced in different body shapes like 2-door saloon, 4 door saloon, 2 door convertible, 2 door coupe, 5 door station wagon, 5 door hatchback, and 3 door hatchback body style. The BMW 320d is the best-selling model of the 3 Series family, accounting for around 30% of the BMW brand's annual total sales.
BMW 320d Generations
First Generation: (E21; 1975-1983)
Second Generation: (E30; 1982-1994)
Third Generation: (E36; 1990-2000)
Fourth Generation: (E46, 1998-2006)
Fifth Generation: (E90/E91/E92/E93; 2004-2013)
Sixth Generation: (F30/F31/F34/; 2011-present)
We Have Big Stock of Following BMW 320d Engines for Sale
BMW 320d 2.0-Litre diesel engine is a combination of powerful stats that enables it to emit high ended performance.
BMW 3 series E46 320d engines 1998-2005
BMW 3 series E90 320d engines 2005-2011
BMW 3 Series E91 320d engines 2005-2015
BMW 3 Series E92 320d engines 2006-2015
BMW 3 Series E93 320d engines 2006-2015
BMW 3 Series F30, F35, F80 320d engines 2010-2015
BMW 3 Series F31 320d engines 2011-2015
BMW 3 Series F34 320d engines 2013-2015
Purchase BMW 320d Engines at Lowest Prices
BMW320engines.co.uk is a leading platform from where you can easily get your desired BMW 320d engine in any condition. We deal with one of the top-rated BMW 320d engine suppliers in the UK. They are strongly committed to delivering premium quality reconditioned engines to our suppliers. Our dedicated recon engine price hunting unit always keep a bird's eye view over all BMW 320d engine prices updates. That's why we are happy and sure that our offered BMW 320d rebuild engine prices are the best and the most competitive in the market. Not only this, choose any reconditioned or used BMW 320d engines and get massive discount up to 60%.
Buy BMW 320d Engine and Get Standard Warranty Up to 24 Months
BMW 320d is undoubtedly the bestselling model of the 3 series. BMW 320d engines maintain a huge stock of excellent working and quality tested used or reconditioned engines. That's why we also offer a standard warranty starting from 6 to 24 months. Select any type of BMW 320d engine and be the lucky one to get the best deal of the town.